A 15 track CD by warren moise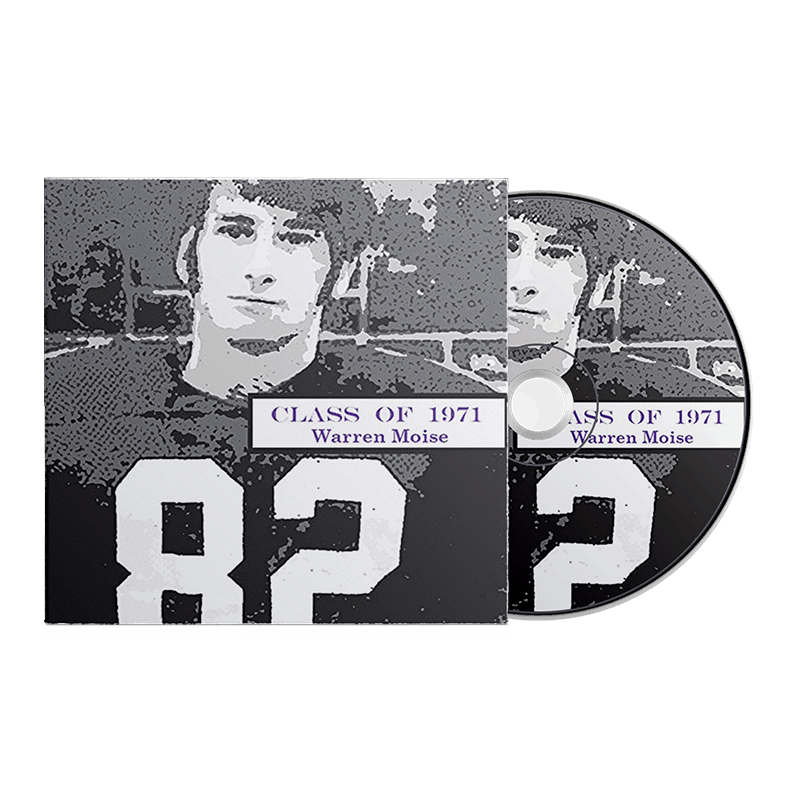 Songs
1. Would You Believe/Goodbye, My Old Friend
2. All I Needed Was a Prayer
3. Atlantic Beach After Midnight
4. It's Never Too Late to Try (Pretty Red Shoes)
5. Southern Belles
6. She's Got Her Mother's Eyes/Hello Daddy, I Love You
7. The Guilty Plea
8. Lonely Too Long/Quarter to Nine
9. (Goin' Out With a) Jersey Girl
10. In the Blink of an Eye
11. I've Been So Emotional Lately
12. Soulsville/Sumter 1967
13. Give Me a Sign
14. Statia
15. Class of 71
I remember that day in August, 1985, the morning of law school orientation. I showed up sleepy-eyed in crisp kalki pants, a yellow power tie, a white shirt, and a blue blazer from Max's Men's Shop on King Street in Charleston. Good lawyer clothes, all of which were bought for me by my brother Ben. But I was a fraud. I'd played into the wee hours at a local nightclub that very morning with my rock 'n roll band. Everyone in the auditorium around me looked smarter than I was. They probably were. For the past 13 years, I'd made a living playing live music, writing songs, and doing music studio session work in the Carolinas, Atlanta, and in Miami. I have fond memories of recording with the Chairmen of the Board beginning with the On the Beach album and Carolina Girls, its anthem to southern girls and continuing writing for the Drifters, Maurice Williams, Billy Scott, Second Nature, Clifford Curry, Shagtime, and the Band of Oz to mention a few.
Life was sweet. I had minimum limits auto liability insurance. Rent was real cheap. With low overhead, I had more money than I deserved. But I wanted to be lawyer. Songwriting royalties helped pay my way through law school. For almost two decades after graduation in 1988, I kept away from music. I wanted folks to take me seriously as a trial lawyer. Eventually I bought a 32 track digital music recorder, and returned to music. This record is the latest result. I hope you like it.
Before I end, let me thank God, of course; Arlene "Jersey Girl" Brown who did the layout and design; her husband, Dr. Jimmy Brown, P.E. – our greatest soul guitarist extraordinaire; and H. David "Platinum Record" Henson who taught me a great deal about recording and how to have fun doing it too.
How was this CD recorded?
Class of 71 was completed in a studio built into my closet at home. I played all of the instruments and sang all of the vocals. Between a water heater and old clothes on hangars was my Korg 32 track digital recorder. The microphone stand was pushed into the clothes, and when I played the keyboard, the stand bounced up and down causing shirts to fall. Whatever its failings, that is one dead room. Although I paid my way through undergraduate and law schools as a session musician, engineering is not my forte. Any ability to engineer came from David Henson, who taught me much. David engineered many of the Chairmen of the Board and Band of Oz records we did, as well as Stevie Wonder's Songs in the Key of Life and Poco's Heart of the Night records.
For those few who are interested, I used a Korg Triton keyboard, a Korg CX organ, and a Roland Axe handheld keyboard (sometimes called a keytar) through a Yamaha ES Motif rack mounted module.
An Epiphone Les Paul Studio Special guitar was used for rhythm tracks and chinks on the 2 and 4. However, 99% of the guitars are played on the Yamaha Motif or the Korg Triton.
Having dealt with drummers for so long in the past (who are, by the way, not infrequently the craziest guys on any recording session), I'm not apologetic about favoring drum computers. Unlike a real drummer, a drum computer is always at the session on time, it don't show up drunk, it never argues, it doesn't overplay or fail to keep perfect time, and it never asks for a ride home. The drums on this CD were recorded using either a Roland Boss drum computer, the Korg digital recorder's Session Drums, the Korg Triton's drums, or more typically, a multiple of one or more of the above.
Songs and Music
All instruments and vocals by Warren Moise
All Songs copyright 2010 by Warren Moise (Bob and Ethel Music BMI), except
Southern Belles, copyright 1983 by Warren Moise (Bob and Ethel Music BMI).
Lonely Too Long by Felix Cavaliere and Eddie Brigati (EMI Jemaxal Music, Inc.; EMI April Music, Inc.; & Eddie Brigatti Music ASCAP); and Would You Believe by H. Martin, J. Butt, M. Branch, and R. Branch (Platshon Music BMI)