A Tale of Desegregation in Gamecock City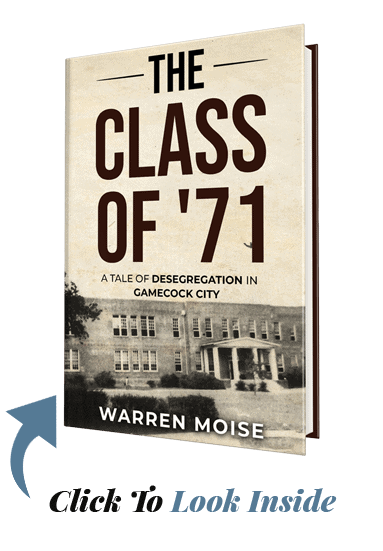 Sumter, South Carolina, also known as the Gamecock City, has a storied past, largely forgotten today. It contributed more men and material to the Revolution per capita than any other state. After the war, Sumter County became the wealthiest county in the state per capita. Its plantations graced the countryside. Horse races, English gardens, grand soirees, and a healthy influx of American and European royalty traipsed through the town. At the heart of it all was America's longest living Revolutionary War General, Thomas Sumter, who created Stateburg as a kind of planned urban development.
But much of the wealth was based on ownership of slaves. And when the Civil War ended, that wealth was gone, leaving behind resentment and separation between the races for nearly a century.
Over the years, the town and county did their best to grow out of the economic ruin from the war. Black and white citizens of the town worked together, but socially speaking, they lived in different worlds. The schools were separate, as were their churches and social ways.
And so this arrangement continued until 1970. That school year was the first time in American history that these children of the white ruling class and the descendants of South Carolinian slaves and freedmen met in any meaningful way, face to face in the aging corridors of the public schools. Not that there had been no mixing of the races. Generally speaking, President Nixon's freedom-of-choice plan had allowed any student to attend any other school. Black and white students had already played together on Gamecock City's sports teams for four or five years before 1970-1971. However, the Office for Civil Rights in the former Department of Health, Education, and Welfare Department of Office of Civil Rights, determined that the plan was not working. Moreover, the courts were casting doubt on the freedom-of-choice plan's constitutionality.
It was a violent, disruptive time in American history, in too many ways like today. Police were being ambushed and assassinated sitting in their cruisers across the United States, and black and white extremists were in the streets. Unlike in the cradle of abolitionism, Boston, Gamecock City's Class of '71 managed to muddle through. It didn't disintegrate into madness, it kept within the lines, and the Class of 1971 emerged largely as friends – or at least more as friends than enemies. And this while the Class of '71 and countryside was being preyed upon by "Pee Wee" Gaskins, a brutal mass murderer, and with the Ku Klux Klan flaring up in the community.
This book is the story of a class of black and white kids whose legacy in 2021 is seemingly slipping slowly away into history.
Here's hoping it's not.
#1 in Amazon's Category of Biographies of Social Activists
The Class of '71: A Tale of Desegregation in Gamecock City
The Class of 71!
I think The Class of 71 is a well written and easy read. This year was the beginning of a huge change in our country. It brought back things I had forgotten as well as some great memories! I would recommend this book to anyone who was on this class or whoever enjoys reading!
David A Pettigrew
Amazon Review
Awesome Book!
This is a must read.
Sandra H. Anderson
Amazon Review
Warren Moise is a very talented writer!!
Memories of my high school years that also included many interesting, funny, and historical stories. A great read!!!!
Important story
This is a important history of integration in a small southern city.
Amazon Customer
Amazon Review
How one generation affects so much more later
Very well written and informative
Well-written and pithy
I graduated from the high school in 1970 and I remember many of the characters in the book. I played football with many of them too. Warren has a gift of combining history with memorable characters, especially Abe Stern who sold me clothes and shoes. Wonderful people.
Darcelle Mack
Amazon Review
Wonderfully written
Loved the book. It was full of historical references that I never knew and personal stories about the author and his family. Loved that it was about the trials and tribulations that I also experienced as a member of the CLASS OF '71.
Excellent!
This book is a perfect glimpse into a small city's walk into its future. Excellent way to spend an afternoon.
Read this book and get the real story of school desegregation in America
I graduated from the school in this book the years prior to desegregation and had no idea what the students in the class of 71 (black and white) experienced. Thank you Class of 71 for setting the stage for future classes in Gamecock City and all across America. Warren makes it all come alive and tells the true history of this story of race relations in the south. Very insightful and well written book.
Just the truth
Warren Moise did a great job describing the events and the mood of the town during desegregation in Sumter, with an unbiased perspective!
Ralph E. Tupper
Amazon Review
A great book about transition.
I loved the book. I remember those years well. Warren has a writing style that makes you feel like he's in the room talking to you.
Errata
In an endeavor to ensure as much accuracy as possible in The Class of '71, and with the frank admission that memories fade after a half century, I invite you to email me with any errors or mistakes you find, no matter how trivial,